Our Services
Our Services : We are dedicated to ensuring that all our clients get the best services that are beyond their expectations. In short, we provide the best Airport services. Basically, we specialize in transportation and services ranging from Airport pickups to any destinations across the country. However, we also design and offer safari packages to all destinations in Uganda, Kenya, Tanzania and Rwanda. Alchemy of experienced and professional team players work together with your help.
Car Hire Services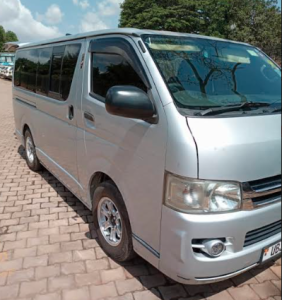 Regardless if you're travelling alone, a group or family, at least we have just the suitable car for you. Our drivers are licensed, well trained with adequate knowledge about most lodges and hotels in different cities like Entebbe, Kampala, Jinja, to mention but a few, for your comfortable stay. Our fleet of mini-vans and saloon cars offer a comfortable, reliable and economical transport within the country.
All our cars are in good condition with functioning air conditioner and clean seats so our clients are guaranteed a comfortable a journey to their destinations. However, our car hire services also extend to Rwanda, Kenya and Tanzania. 
Safari tours
Great Nest Image safaris specializes in organizing sightseeing tours in Uganda, Kenya, Tanzania and Rwanda. Our package prices are pocket friendly with a wide range of tour options perfect for families as well solo travelers. Whether you are interested in different tour activities, we are more than delighted to help you plan your itinerary. When you book with us, be rest assured that you will be in the right hands of tour professionals.
Furthermore, we have well trained experienced tour guides who have been to almost all national parks in Uganda. Additionally, all our safari cars are in good condition. They have a pop-up roof and adequate cargo space in rear ensuring you enjoy your holiday. More so our packages take you to different destinations with a list of activities thus helping you make the right tour decision.
Airport pick ups
You can now rent a car or even a private taxi in Uganda. With Entebbe Airport Taxi Services, be sure of a comfortable and uninterrupted airport transfer to wherever you are going. Are you tired of wasting time travelling from Entebbe International Airport to Kampala city or up-country to a remote destination? Rent a car or shuttle bus with us and you will be guaranteed a safe and comfortable road trip. Besides, you can save yourself from the airport stress by booking your airport transfer online before you fly to Uganda.
Above all, our cars and experienced English-speaking drivers are stationed right at the airport and other places within the country. Additionally, we can also handle last minute airport pickups and drop-offs. However, what we need from you are your flight details in advance including names, airways and travel dates. After that, we will book you a driver plus car and on the day of your coming. Finally, our driver will be holding a placard baring your names on it waiting for your arrival.
Hotel Reservations
Just contact us and we shall reserve your accommodation in Uganda, Rwanda, Kenya and Tanzania regardless your budget. We also offer recommendations for different hotels and lodges that we've worked with offering their best services. Our reserved accommodations include; budget, midrange and luxury whether in cottages, apartments or tents. Therefore, there's no need to stress and worry about where to spend your night during your safari in any of the above-mentioned countries. Just contact us and we shall get you sorted.
Enquire/Request a Trip Quote