The hotel is situated on banks of Lake Victoria with convenient access to Kampala and the best spots around Entebbe. It is only 10 minutes from Entebbe Airport, and they offer one free airport transfer to or from the hotel.
Accommodation/Related safaris
Accommodation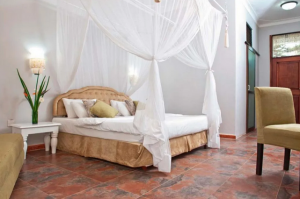 2 Friends Beach Hotel's decor features elegant furnishings and a warm, inviting feel, which creates a luxurious modern atmosphere in each room. All the rooms have got a mosquito net, flat screen TV, free wireless internet, 24 hour front desk and a private bathroom. With its unique ambiance and superb lake views, the outside terrace is the perfect spot to feel the breeze the blows onto the shores of Lake Victoria, the second-largest freshwater lake in the world.
Facilities
Beach restaurant & Bar
The beach restaurant offers you delicious food and drinks while you enjoy the soft breeze and magnificent view. Occasionally they also hold BBQ parties and have a live band playing African music.
Restaurant & Lounge
The hotel restaurant offers you a nice dining experience from the hotel's la carte menu and it is here that you can indulge in their popular breakfast buffet.
Pool
Take some time to relax by the pool, maybe read a good book or enjoy a cold fresh drink. When it gets too hot, have a dip in the pool to cool down.
At 2 Friends Beach Hotel, they offer you excellent service, comfortable rooms, cosy atmosphere, friendly staff and touch of luxury. Your comfort is taken care of. Come as a guest, leave as a friend.
Below are some of our short and long safari packages to different Ugandan parks and other attractive places.
1 Day Uganda gorilla trekking in Bwindi
Contact
Information
Email: info@entebbeairporttaxiservices.com
reservations@entebbeairporttaxiservices.com
Tell: +256783289987
+256772699342
Fill in the form below to get to  Us