Mgahinga Gorilla National Park
Mgahinga Gorilla National Park : is located in the Virunga Mountains, encompasses three inactive volcanoes and Uganda's smallest but most scenic national park. Located in South Western parts of the pearl of Africa, Mgahinga sits high in the clouds, at an altitude of between 2,227m and 4,127m. The park is a habitat to the remaining mountain gorillas in Uganda and the world atlarge. Mgahinga is 33.7 square kilometers, and it is located in the remote South-western district of Kisoro. It lies close to Bwindi Impenetrable Forest, another home to the remaining endangered mountain gorillas in Uganda. The area experiences two wet rainy seasons; February to May, and September to December. The average monthly rainfall varies from 250 mm in October to 10 mm in July. The primates in Mgahinga national park include Mountain Gorillas and the Golden Monkey. Mgahinga National Park forms part of the much larger Virunga Conservation Area which includes adjacent parks in Uganda, Rwanda and Democratic Republic of Congo. It is contiguous with Rwanda's Volcanoes National Park and the southern sector of Virunga National Park in the Democratic Republic of Congo. The volcanoes' slopes contain various ecosystems and are biologically diverse, and their peaks provide a striking backdrop to this gorgeous scenery. While in the park you will experience six vegetation types; Afomontane, tree heathers, montane forest, bamboo, montane woodland and farmland.
What to do in Mgahinga Gorilla National Park
Gorilla Trekking
Mgahinga Gorilla National Park is home to some of the world's endangered mountain gorillas making gorilla trekking a must do activity while at the park. The habituated gorilla family in this park is called the Nyakagezi, which consists of 9 members, 2 silverbacks, 3 adult females, 2 juveniles and 2 infants. However, due to their constant movement it is advisable to check the current location of the gorillas first. The trek commences at about 8:00am and it may be strenuous therefore it can take the whole day, which duration is mostly dependent on the location of the gorillas or how far they moved in their search for food. There are a few guidelines to keep in mind before you go for gorilla trekking. Gorillas can catch human diseases so if you have infectious diseases, you are restricted from trekking the gorillas. If you have to ease yourself while doing gorilla trekking, all waste must be buried 30cm deep. Flash photography should not be used and all trackers should be at least 15 years of age and above. While walking feel free to ask the guides to slow down if there going too fast and you're free to have a rest. The trekking is for 8 people per trek in the park. Depending on how far the gorillas moved, your reward for the trek maybe a silverback out of the 9 in the one family of Gorillas found in the park. But what you have to bear in mind is, by trekking you have a chance to watch the gorillas but it's not a guarantee that you will see them since they travel long distances in search for food.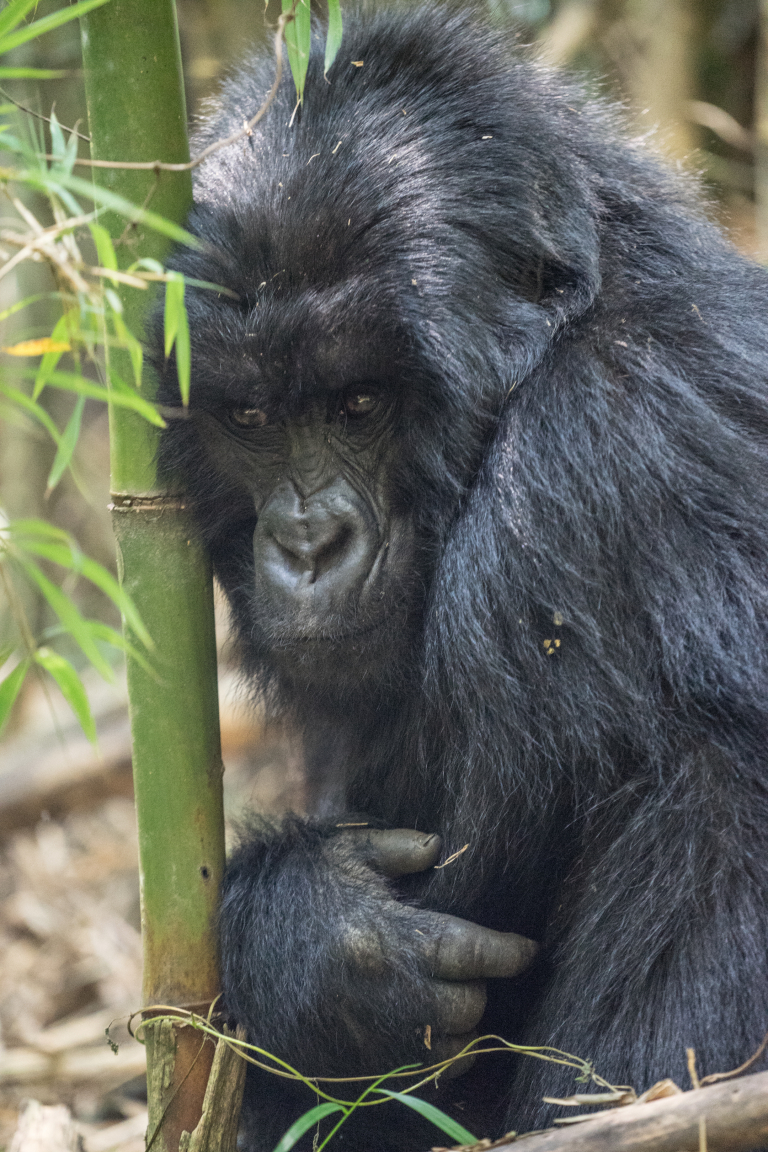 Golden Monkey Trekking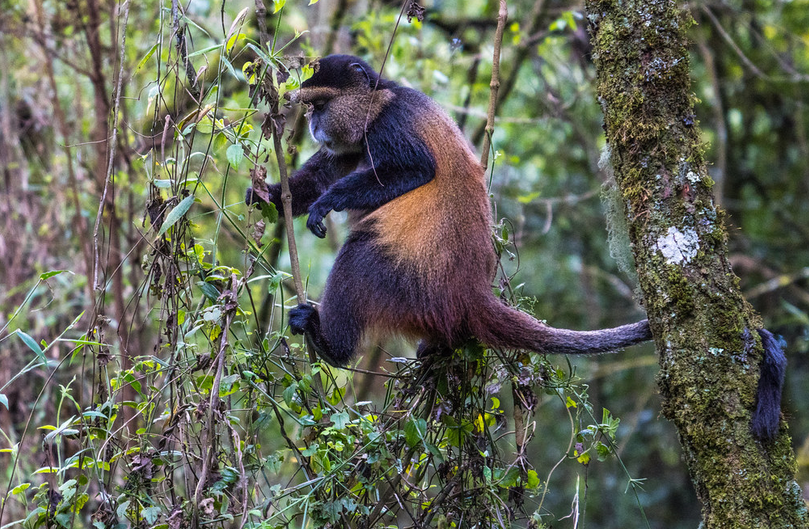 This is the second thrilling activity in Mgahinga National park next to the Gorilla trekking in the area. These primates are small and fast which makes golden monkey trekking an interesting adventure and a must do activity. The trekking takes about 4 hours per session during which you are given a golden opportunity to view and take memorable pictures of the primates before travelling back to your lodge. The habituated families of these monkeys are about 6 in number and they have due to the habituation process grown fond and less evasive of human presence in their sanctuary. The route you take to find the monkeys may be akin to that which they tread looking for young bamboo branches; a hike through the bamboo forest.
Batwa Trail Experience
Before the area on which Mgahinga gorilla national park was set aside for the purpose of being a gorilla national park, the Batwa or African pygmies lived and thrived in these forests and mountains as hunter gatherers. They were later displaced but some of them still live around the park to participate in the tourism industry as porters and guides. They are also entitled to a portion of the tourism proceeds and a tip for their guide services will be welcome. A Batwa trail experience is an activity that takes you through their history and transition over time. The Garama Cave, a very sacred piece of Batwa history is a good place to start. It is in this cave that they were able to hide from Bantu invasion many years back. The ease with which they bustle through the forest and glide uphill is awe striking and a reminder that east or west, home is best to the Batwa.
Other Wildlife
Mgahinga is home to 76 species of mammals, although they are difficult to glimpse in the wild forest vegetation. They include giant forest hogs, bush pigs, forest buffaloes, elephants, bushbucks, golden cats, side striped jackals, black fronted duikers and South African porcupines.
Hiking & Nature walk
One of the best mountain hikes within Mgahinga National Park is that to the peaks of mount Sabinyo which provides a good birding opportunity and the chance to find the Rwenzori Turaco. Mount Muhabura stands at 4127 meters and provides the most outstanding views than any other mountain in Uganda. Hiking Muhabura takes 8-10 hours and some of the views you will be rewarded with when you climb to the Peak of this Mountain include the Virunga Massif, the magnificent Queen Elizabeth National Park and Lake Edward. Gahinga means "pile of stones" in the local dialect (Rukiga) and this Mountain stands at 3474 meters above sea level. Hiking this mountain takes 6-7 hours and highlights into the Peak of this Mountain covered by a swamp (was once an incredible Crater Lake).
Volcano Climbing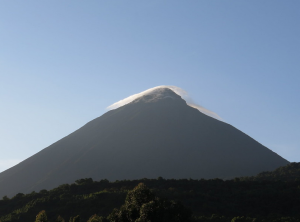 Volcano climbing is a big attraction; the Mgahinga Park has 3 dormant volcanoes believed to have formed in the mid Pleistocene era about 1.8 million years ago and form part of the Virunga chain of 8 volcanoes. Depending on visitor's fitness levels, an experience Uganda Wildlife Authority guide helps you to choose and make the most of your time. Mt. Muhabura is the tallest at (4,127) meters above sea level with 36 meters wide Crater Lake on its summit. Mt. Gahinga (3,473) meters above sea level is the lowest and easy to hike about 6-8 hour loop trail leads to a 180 meters wide swamp that covered up the Crater Lake on top. According to the local legend, Gahinga means a pile of volcanic stones that surround the local farmlands on its lower slopes, hence the name of the park, Mgahinga. Mt. Sabinyo has a toothed summit a reason why it's referred to as an old man's teeth by the locals. Visitors hike past several deep gorges and ravines before standing in a great location where the three countries Rwanda, Uganda and DR Congo borders meet.
Garama Cave Exploration
Proceed to the Garama Cave – the residence of the King of the Batwa People. No outsider was allowed to enter though you have special permission.  The cave was also used by the Batwa people to hide from their enemies. You will enter the cave if you are a bit claustrophobic and relax which will be fine.  You enter down, darkness embraces you and you hear mournful chants of the Batwa women mourning the loss of the beloved forest.  A dim light illuminates the cave and you see them dancing with the words like tears pouring forth – a most meaningful time.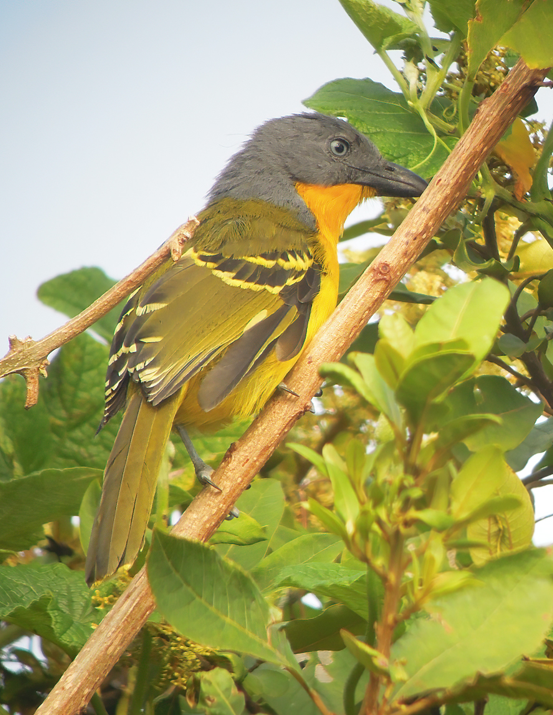 Birding in Mgahinga national park
Many bird species are found in Mgahinga Gorilla National Park and is said to be having over 180 bird species and birding in the area can be all year round. Various birds can be viewed in the area; the Dusky Turtle Dove, Cape Robin-chat, Brown-crowned Tchagra, Bronze Sunbird, Black-headed Waxbill, Streaky Seedeater, Handsome Francolin, Kivu Ground Thrush and Cinnamon Bracken Warbler, White Starred Robin, Greater Double collard Sunbird, Rwenzori Turaco, Rwenzori Batis, Shelly's Dusky Crimsonwing, Archer's Robin Chat, Olive Pigeon, and Black headed waxbill, Western Green Tinker bird, Malachite Sunbird, Cape Robin, White-starred Robin, Brown Woodland Warbler, Striped breasted Tit, Malachite and Scarlet-tufted Sunbirds. You will enjoy a good list of the Albertine rift endemics in this area especially on the gorge trail. Birding in Mgahinga Gorilla National Park is open to visitors at any time of the year. But March, April and May, September, October and November are the ideal months for birding in Mgahinga Gorilla National Park. Most birds breed during these months and most migratory birds can be best spotted from November to April.
How to get there/Accommodation/Related safaris
Accommodation
The park has got a lot of lodges, camps & hotels for accommodation ranging from luxury, budget and mid-range and these are available both inside and outside the park. You can book your accommodation through our company and early bookings are advised.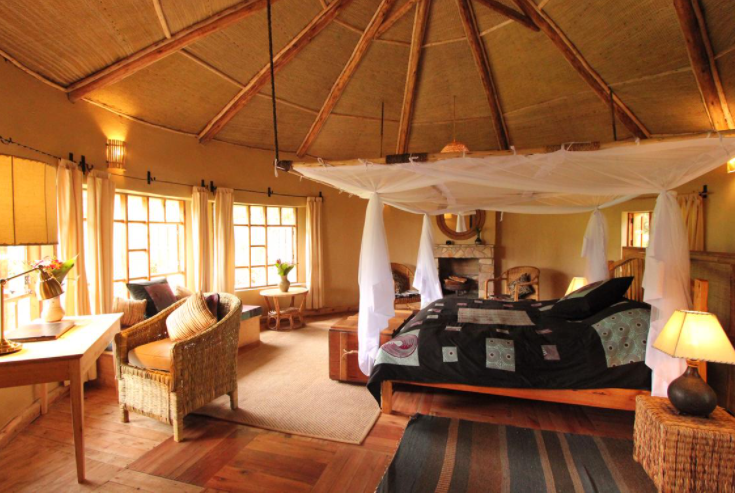 Luxury
Mid-range
Traveller's Rest Hotel-Kisoro

Mucha Hotel-Kisoro
Budget
Amajembere Iwacu Community Camp

Kisoro Tourist Hotel
Our Safaris
Below are some of our short and long safari packages to different Ugandan parks and other attractive places.
1 Day Uganda gorilla trekking in Bwindi
Contact
Information
Email: info@entebbeairporttaxiservices.com
reservations@entebbeairporttaxiservices.com
Tell: +256783289987
+256772699342
Fill in the form below to get to  Us