African Safari Vehicles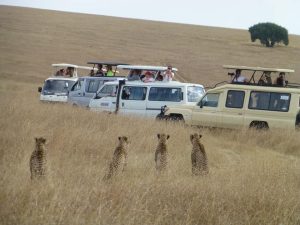 African Safari Vehicles : are perfect mid-sized group vehicles to hire for a group safari, camping safari and family road trips. Just like any other Toyota installments, this safari vehicle comes with either manual or automatic transmissions. The vehicle is customized with a hatch roof that allows one to stand and view wild animals. African Safari Vehicles are usually given out with the safari driver guides who have well-defined understanding of our roads. However, they offer clear interpretation of the attractive landscapes including wildlife that might be encountered along your way.
Our African Safari Vehicles
For sightseeing tours, the  Vehicles have a pop-up roof as well as space for luggage.  Basically, they have comfortable well-spaced 9 passenger seats with a customized allowance of 14 passengers. Once in the park, the roof will open and you can enjoy an excellent view on wildlife. This is all done by our experienced drivers/guides. The  Vehicles do feature an amazing interior that have comfortable seats with enough leg room space. Additionally, it has an air conditioning system to allow you an ultimate comfort on your safari.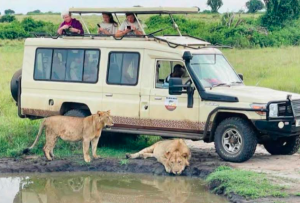 Why use African Safari Vehicles?
Generally, African Safari Vehicles are mostly used for long safaris to different national parks and reserves in Africa. Due to its comfortability, there is no need to worry about your safari and the bad roads. The vans have open side and  offers face to face encounters with nature and are commonly used in Africa. The Vehicles are blessed with a strong exterior that can manage all road conditions regardless of the weather. Therefore, you don't need to worry about the rough terrain in the park when it rains.
Rates
The price ranges from US$ 150 per day with driver, excluding fuel.
Therefore, this  Vehicle is the perfect for you to rent while in Uganda. Plan to tour the different national parks  around Uganda with your friends or family.  Contact us  for your the best trip using our Safari Vehicles.
Contact
Information
Email: info@entebbeairporttaxiservices.com
reservations@entebbeairporttaxiservices.com
Tell: +256783289987
+256772699342
Fill in the form below to get to Us