The Safari Land Cruisers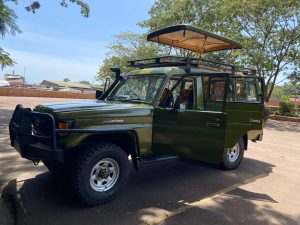 The Safari Land Cruisers: This is the most popular safari car for park safaris as well as road trips in Africa. Basically, the 4×4 land cruiser is guaranteed to give you a comfortable ride. This car can accommodate up to 7 people with an extended version carrying 9 passengers. Besides, the Safari Land Cruiser consists of a pop-up roof offering tourists a chance to get clear views of wildlife in parks. Additionally, it also comes with a cooler box for drinks without forgetting the well-spaced seats and back-up tyres.
Our Safari Land Cruiser offer
The Safari Land Cruiser is the ideal car for camping trips, park safaris, filming, as well as photography. We shall offer you the Land Cruiser along with a well-trained driver. If you prefer self-drive, then that can be arranged basing on your driving experience. Each of our extended Safari Land Cruiser is accompanied by an experienced driver thereby  driving clients to different countries. Our Safari Land Cruisers are licensed as Tour Service Vehicles (TSV) under the Uganda Law Act (Traffic and safety amendment Act). Therefore, our experienced safari drivers and guides are equipped with necessary tour guide licenses. The top reason as to why you should hire this Land cruiser for your park safari, is that it allows you get clear views of wildlife and nature.
Our Safari Land Cruiser rates per day
Our Land cruiser safari vehicle ranges from US$ 120 per day with driver & fuel. However the extended safari land cruiser is US$ 150 per day. To hire a safari land cruiser in Uganda, simply contact us at info@entebbeairporttaxiservices.com or call us  on +256755658818/+256783289987 to speak to the reservations team. Don't hesitate to contact us!   
Contact
Information
Email: info@entebbeairporttaxiservices.com
reservations@entebbeairporttaxiservices.com
Tell: +256783289987
+256772699342
Fill in the form below to get to  Us