Protea Hotel Entebbe is a resort hotel by Marriott, located just 1km from Entebbe International Airport. Set on the banks of Lake Victoria, this tranquil spot is an ideal option for before or after a safari adventure, and offers easy access to Uganda's bustling capital, Kampala. The hotel offers a wide variety of services & amenities including a restaurant that offers an exciting and truly inviting a la carte menu 7 days of the week. Specialties include Tilapia and Nile Perch, while guests can also relax on the terrace and bar. It's a hotel that complements your travel style with elegant furnishings and a warm inviting feel, the hotel's decor and rooms create a luxurious atmosphere. The outside terrace, with its own special ambiance and superb lake views is the perfect place to take it all in.
Accommodation at Protea Hotel
Accommodation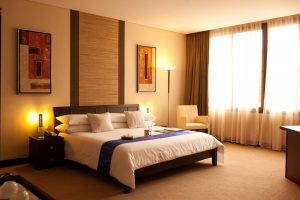 The guest rooms and suites are spread over three floors, and offer a classical elegance with modern décor. The deluxe rooms and suites feature balconies with views over Lake Victoria, while all rooms have an en suite and modern amenities. The hotel has got 86 spacious and well-furnished rooms and suites with en suite bathrooms, Deluxe rooms and suites include private balconies with breathtaking lake views, 12 Executive suites and 2 Junior suites with lounge/work area, Single, twin, king and queen rooms.
Meeting and Events
Victoria Hall, our largest conference venue can accommodate up to 250 delegates. A boardroom set up can accommodate a maximum of 52 delegates and 200 banquet- style. Host your event or conference at the hotel and stay over with 73 guest rooms for your convenience. Host your intimate meetings in one of the 2 boardrooms, able to accommodate 12 delegates.
Weddings and Occasions
Tide Restaurant can accommodate up to 250 guests and is ideal for cocktail parties. The largest conference venue – Victoria hall can comfortably host 250 delegates
Services
Restaurant
This restaurant offers an a la carte menu seven days a week. Daily specials 'with a difference' are also a firm favourite with locals and tourists alike. The perfect place to kick off a decadent evening out or simply just to relax and enjoy the sunset. Tide restaurant can accommodate up to 250 people and is ideal for a banquet or cocktail party.
Fitness Center
Equipment Available
Cardiovascular Equipment

Exercise Bike(s)

Free Weights

Strength Equipment

Treadmill(s)

Weight Machines
Swimming pool
Back at the hotel, relax in the swimming pool or spa.
Activities
Guests can visit the chimpanzee sanctuary on Ngamba Island, see shoebills at Mabamba Swamp, wander round the botanical gardens, or cruise to Ssese Islands.
How to get there//Related safaris
Contact
Information
Email: info@entebbeairporttaxiservices.com
reservations@entebbeairporttaxiservices.com
Tell: +256783289987
+256772699342
Fill in the form below to get to  Us