Land Cruiser Tx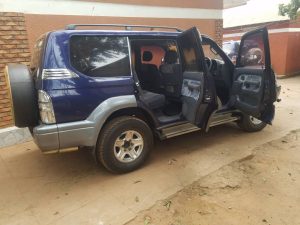 Land Cruiser Tx : is a comfortable 4×4 station wagon edition vehicle manufactured by Toyota motors. Additionally, this vehicle can accommodate up to 5 passengers exclusive the extra back seat. This vehicle has a comfortable interior with space for some cargo and adequate legroom. Generally, making it an ideal vehicle for leisure trips, city trips,  game park tours and business trips. With the FM radio, CD player, AC, and sunroof, this vehicle won't let you have a boring trip. The vehicle consumes both diesel and petrol and this four-wheel drives anywhere you want to go. No matter the nature of the road or the kind of weather, this vehicle gets you covered.
A Landcruiser Prado TX/ TZ comes with or without a pop-up roof and mainly in green, sliver and blue colors. It offers a great driving experience while in the wild. Landcruiser TX always comes in manual transmission and is most liked by its extra power that enables it maneuver even the hardest roads for instance those in Kidepo Valley National park.
Therefore, don't hesitate to contact us for your safari in Uganda.
Rates- From US$ 80 with the driver.
Contact
Information
Email: info@entebbeairporttaxiservices.com
reservations@entebbeairporttaxiservices.com
Tell: +256783289987
+256772699342
Fill in the form below to get to Us