Jinja City Tour: Jinja city is located in Eastern Uganda on the northern shores of Lake Victoria was founded in 1901 by British settlers. In 1954, the construction of the Owen Falls Dam submerged most of the "flat rocks" that gave the area its name. The Baganda called the area "Mayinja" and in Lusoga as 'Idindha' which translates to the stones thus the name "Jinja" was derived.  Jinja retains the spacious and attractive layout of its colonial-era incarnation and its roads are lined with some fine Asian architecture, giving it a sense of place that is further enhanced by the spread of thickly vegetated residential suburbs carved from the jungle between the town centre, the lake and river. The city simply bursts with energy and adventure and one could participate in the many activities that it offers and visit the most famous attractions.
Tourist attractions in Jinja City
The source of the Nile
With an estimated length of about 6.700km the Nile is the longest river in the world. It was discovered by European explorer Speke Hannington to leave the largest lake in Africa at ripon falls in Jinja. With the constant questions about the source of the Nile River, Jinja has had countless visitors who come both for deeper information or just to marvel at the source and participate in the activities that Jinja has to offer. The river covers many countries; Sudan, Egypt, Uganda, Rwanda, Kenya among others. The Nile has two major tributaries; the White Nile considered to be the headwaters and primary stream and the Blue Nile which is the source of the most waters and silt. Along the Nile, there are several exciting activities such as; rafting, boat cruise, bungee jumping, Kayaking that you can enjoy during your Uganda safari.
Kayaking and rafting
Kayaking is a more thrilling activity that is available at the Nile source for experienced rafters interested in a challenge. Family floats are provided for safety and a guide goes along with you on this adventure. For the case of the trainees, Courses and expeditions are offered whose instructors are well trained to the UK's standard. The limited age for Kayaking is 14 years and above, however there is a quit number of activities that tourists below the age of 14 can participate in to enjoy their adventurous trip in Jinja. Grade 3 and Grade 5 white water rafting trips are also available on the Nile River where you will be able to see birds swimming in the calm waters.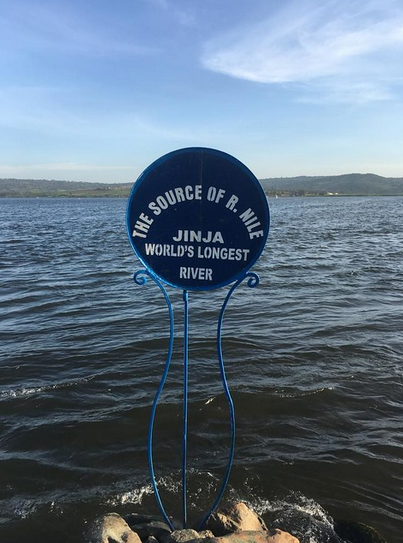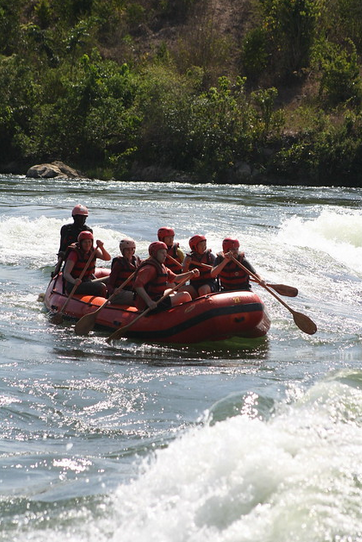 Boat cruises
During this 1–2-hour cruise, one is able to spot various bird species like the Black kite, African Fish Eagle, Hamerkops, Egrets, Herons among others that may catch your attention. This cruise can also take you up to the point where the River Nile begins to flow.
Bungee jumping
One may also choose to go bungee jumping at the Nile. This 44m high jump is a rather thrilling experience as you dive into the Nile with a safety boat at ready close by so you need not be worried about your safety.
White water rafting
It is the most popular excursion on the upper Nile and it's an experience that teaches you to remain calm while under great pressure. White water rafting takes you to the middle of the river under pressurizing rapids. Early morning is the best time to go for rafting adventure and any traveler preparing to go for the activity should leave all the belongings behind, one has to sign a form with all his/her details and those with anemia are restricted from the activity for the wellbeing of their lives. The young children and adolescents are not allowed to go through the strongest and difficult rapids they instead take the route of smaller rapids to explore the forest. The rafting is safe given to the number of highly trained guides who are experienced in navigating through the rapids and it's important to follow the instructions of the guides for your safety. Participants are given life jackets and strong helmets to protect them from in case they trip over.
Fishing
For those interested in fishing the tour operator can arrange for a day at the lake sport fishing where you can catch the tilapia, Nile perch, lung fish and even choose to take your catch back to your place of residence and have it prepared for you.
Visit to the Jinja central market
This massive market is one of Jinja's important landmarks. Hosting over 3000 registered vendors this facility is a plethora of all kind of trinkets and goods of all sorts. Fruits, vegetables, household appliances, clothes, arts and crafts and all other kinds of souvenirs. Shopping (or even window shopping) here is fun as you get to see all sorts of cool new stuff and experience Ugandan culture.
Visit Kyabazinga royal palace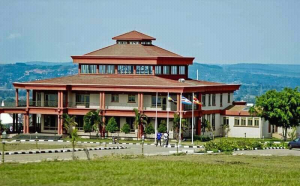 The kingdom of Busoga is one of Uganda's most respected and much organized kingdoms in Uganda, located a few kilometers along Jinja-Kamuli. The kyabazinga palace (also known as the Budhumbula Palace) was the residence of former Kyabazinga "Nadiope William Wilberforce" who died in 1976. The shrine has the graves of the royal members and is enriched with the Busoga culture and history. Visit the palace gardens and learn more about the tribe.
Nile Reptile Park
Where all sorts of reptiles can be found in Jinja, snakes, chameleons, crocodiles, monitor lizards among others. Visit and learn more about our scaly friends.
Nile view casino
Take a night off to enjoy the casino and play lots of games. The casino features a selection of electronic gaming machines that include exciting slot machines and electronic roulette terminals.
Buguge historical site
Located a few kilometers from Kaliro town, Buguge Historical Site is one of the most popular attractions in this town. The settlement of the first Lamogi (Chief) from the Babiito rulers of the Biito Dynasty of Bunyoro. Learn about their culture and listen to their interesting history.
Quad biking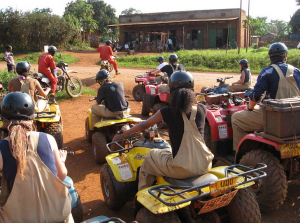 A bike ride could take you around the nearby villages following local foot paths and tracks exploring the city's beauty. This activity can be organized by the tour operator.
Mahatma Gandhi monument
At the source of the Nile surprisingly stands a shrine to Mahatma Gandhi. Born on 2nd October 1869 the famous Indian lawyer ordered that upon his death, his ashes were to be scattered in several of the world's greatest rivers including the Nile in Uganda. Thus, the monument was donated by the Indian government in his honor.
Speke monument
The Speke monument simply is where John Hannington Speke, the first European explorer to discover the source of the Nile stood when he established that Lake Nalubale (what he decided to call Lake Victoria) is in fact the source of the Nile River. It sits adjacent to the source of the Nile Gardens with a river in between in Bukaya village.
Kagulu hill
Standing 3500ft above sea level in Buyende District this rock marks the settlement of Basoga people as they shifted from Bunyoro under the leadership of Prince Mukama. The hill is among a number of small hills that increase the opportunity to rock climb. One side of this hill has several steps all the way to the top which gives you a wide view of the area including Lake Kyoga.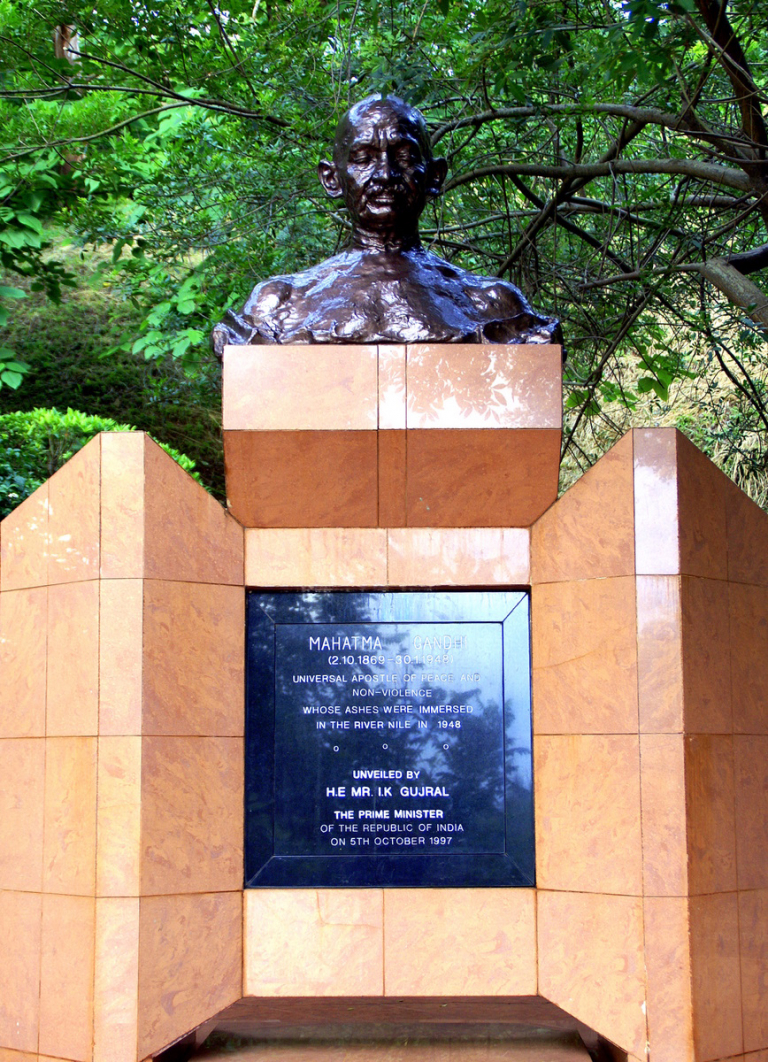 Other attractions in Jinja City
MABIRA FOREST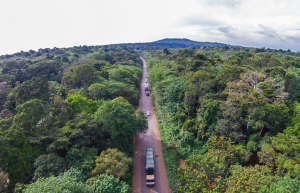 This is the largest forest in Uganda situated along Kampala-Jinja Road in Buikwe district covering an area of about 306km2. The forest harbors over 315 bird species, 300 mammal species, 218 butterfly species and more than 312 tree Species with medicinal importance known to cure various diseases.
Activities done in Mabira forest
Bird watching
Being a home to over 315 bird species, Mabira is a must visit destination for the birders. You will see dusky long tailed cuckoos, African shrike flycatchers, forest wood hoopoes, the grey parrots, African pied hornbills, blue throated rollers, black shouldered nightjars, green breasted pittas, African fish eagles, red headed bluebills, white-bellied kingfishers and shining blue kingfishers among countless others.
Zip lining
Imagine viewing the forest while you are in the sky with a number of birds and getting up close with the grey checked mangabeys among other primates. At an affordable price with all safety gears at hand, one could go zip lining at Griffin falls found in Mabira Forest and experience this thrilling adventure.
Camping
At Griffin falls is a camping site that can harbor you for as long as you want to stay in the forest. It also has tents so one need not worry about sleeping over. Be sure to come carrying mosquito repellants because these insects can be very disturbing.
Nature walks
With over 312 tree species in this forest one can easily get lost but these walks are conducted by experienced guides who know the forest inside and out and will answer all your questions. In this case when you come across the ancient giant trees, birds, monkeys and butterflies you will know the different species for example trees like Mililia Exclesa and its different medicinal properties.
SEZIBWA FALLS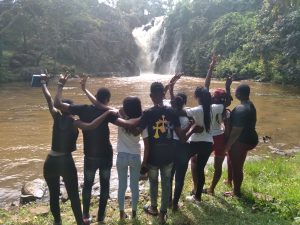 The falls were named so behind a legend that once a lady named Nakangu was to give birth to twins but what came from her womb were in fact Twin Rivers that split around an island immediately after the waterfall. The locals called the river "sizibwa kkubo" which translates to "my path can't be blocked" thus the name Sezibwa.
At this site one can do different activities which include; Cultural experience where you can experience worshippers performing different rituals, bird watching as Sezibwa falls being a wet area is a great site for seeing many bird species, camping grounds are available for those who decide to camp here or simply have a picnic, rock climbing and hiking though a little challenging for those who are unfit is not so hard as the rocks are not too steep or one can decide to go for a nature walk and sight different butterfly and plant species.
How to get there/Accommodation/Related safaris
Where to stay in Jinja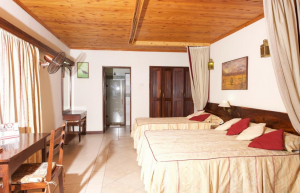 Luxury
Jinja Nile Resort

Royal Park Hotel

Lake Victoria Serena Golf Resort & Spa

Nile Village Hotel & Spa
Mid-range
2Friends Guest House

Brisk Hotel Triangle

Hotel Paradise on the Nile

The Mansion Hotel
Budget
Bilkon Hotel

Surjios Guest House

K&k Guest House

Nile Eden Resort
How to get to Jinja
Jinja lies about 70km from Kampala, thus the journey would take almost up to two hours but owing to traffic and any stop overs made during the journey it would take up to two and a half hours to reach Jinja.
Our Safaris
Below are some of our short and long safari packages to different Ugandan parks and other attractive places.
1 Day Uganda gorilla trekking in Bwindi
Contact
Information
Email: info@entebbeairporttaxiservices.com
reservations@entebbeairporttaxiservices.com
Tell: +256783289987
+256772699342
Fill in the form below to get to  Us